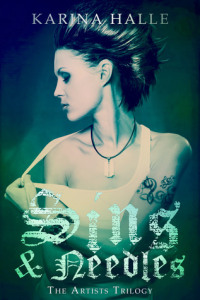 Sins and Needles by Karina Halle
Published by Self-Published on January 25th 2013
Genres: Contemporary Romance
Format: ebook
Source: Purchased
Purchase @ AMAZON  or  BN
Add to GoodreadsRating 

Ellie Watt is used to starting over. The daughter of a grifting team, Ellie spent her childhood being used as a pawn in her parents' latest scam. Now she's much older, wiser and ready to give her con artist life a rest. But returning to the dry desert town of Palm Valley, California means one more temptation than she bargained for – Camden McQueen. Once known as the high school weirdo, Camden is bigger and badder than the boy he used to be and a talented tattoo artist with his own thriving business. Ellie's counting on Camden still being in love with her but what she's not counting on is how easily unrequited love can turn into obsession over time. When Camden discovers Ellie's plan to con him, he makes her a deal she doesn't dare refuse, but her freedom comes with a price and it's one that takes both Ellie and Camden down a dangerous road.
Liezel's Thoughts:
"I hate you, Ellie Watt," he whispered, lips coming closer to mine, "because I still love you after all these years."
I absolutely loved this book! It had all the great elements, from suspense,  love and romance, obsessed drug lords, a yummy tattooed man, and music.
What made it different was for once the heroine wasn't your usual typical  "damsel in distress", "I'm sooooo gorgeous – love me", "I'm vulnerable- protect me"  type. Ellie's a strong, independent woman searching for "justification". A survivor. Her character was even stronger than the male character in this book. Loved it!
"There's no one else I wanted to love, no one who deserved it more that you."

"I love you," he whispered. "From now until the end, under any name you choose."
I liked how they reconnected after all those years. But was screaming in my mind "PLEASE, don't rob him, you'll spoil everything!" And even if when she did (or attempted to), their relationship still worked out. He was still in love with her. And she with him.
She would do anything for him. She would sacrifice herself to make sure he and his family was safe and had means to start a new life. Even if she had to submit to a murdering, obsessed Javier. Why was he so obsessed with her in the first place? Was he in love with her or was he just seeking revenge for duping him and stealing his car? Or for once did he finally find his perfect match?
The Verdict:
Casting Picks:
Kiera Knightly as Ellie because she looks exactly like the woman on the cover.
Javier Bardem as Javier since the Author pictured him for this character.
David Beckham as Camden because of his hotness and sexy tattoos.
What I would love to see in the next book:
Shooting stars is apparently still going to be through Ellie and Camden's point of view, there isn't a cover release or a release date yet.
But I'm hoping it will be a story on how Camden gets his girl back.  I want to see how Javier and Ellie are together too, does she develop some sort of Stockholm syndrome and falls for Javier, thinking Camden needs to move on? No doubt Ellie had some feelings for Javier at one point. I would hope since she gave up her virginity to him after all. Does Javier just get rid of Camden after he realized that she can never love him like that? Oooooo, the possibilities!
I'm also REALLLLLY REALLLLY wanting a Javier POV. I want to see how is mine ticks, what he really feels for Ellie and how he's going to convince her to stay with him.
Related Posts