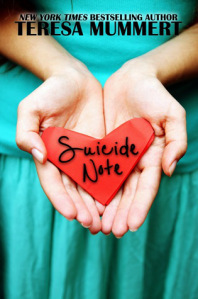 Suicide Note by Teresa Mummert
Published by Self-Published on March 12th 2013
Genres: Contemporary Romance
Format: ebook
Source: Purchased
Purchase @ AMAZON  or  BN
Add to GoodreadsRating 

Sometimes in life it feels like everything that can go wrong does, but everything happens for a reason. A relationship crumbles so someone else can mend the pieces of your broken heart. A change of plans can lead you to something you didn't even know you were missing. We help others and discover that it was us who needed to be helped all along.

Jenn's life is nothing as she had imagined it would be. She is twenty-something with a failing career and her love life has officially ended with an ultimate act of betrayal. She is ready to throw away her dreams when a chance run-in with a soldier, dealing with his own misfortunes, altars her course and changes her perspective on life.

Everything happens for a reason.
Liezel's Thoughts:
"I always thought a piece of my heart had been missing. Turns out that piece was you."
Their meeting was just circumstantial, they were never in each others paths to meet but because of fate, a beautiful friendship begins. Both Shane and Jenn have just been through bad break-ups from their cheating fiancée. While trust was always against them, they got pass those issues and their doubts and from there the relationship blossoms.
"I can't lose you now, Jenn. I didn't even know I wanted anyone else until I met you. I was perfectly happy being on my own. Now I can't even stand to think about what it will be like to walk away from you.
While there are some beautiful passages and a few good parts…this one just didn't do it for me. The first thing that bothered me was the constant  flip-flopping between POV's between Jenn and Shane. It took me a good couple chapters to figure out what was going on and getting used to the writing style. Most of all the writing was good but the story itself was just okay for me. To me there just wasn't anything special about it. It lacked something but I just can't figure out what it was. I couldn't relate, I just couldn't get into it and I tried.
"I have been waiting my entire life for someone to look at me the way you do. I can wait a few more months."
The Verdict :
Related Posts