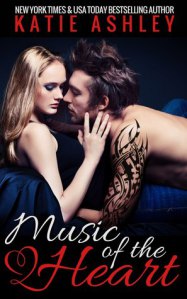 Music of the Heart by Katie Ashley
Series: Runaway Train #1
Published by Self-Published on March 24th 2013
Genres: Contemporary Romance
Format: ebook
Source: Purchased
Purchase @ AMAZON  or  BN
Add to GoodreadsRating 

For Abby Renard, the plan was supposed to be simple—join her brothers' band on the last leg of their summer tour and decide if she's finally ready for the limelight by becoming its fourth member. Of course, she never imagined stumbling onto the wrong tour bus at Rock Nation would accidentally land her in the bed of Jake Slater, the notorious womanizing lead singer of Runaway Train. When he mistakes her for one of his groupie's, Abby quickly lets him know she sure as hell isn't in his bed on purpose.

Jake Slater never imagined the angel who fell into his bed would resist his charms by promptly kneeing him in the balls. Of course, the fact she seems like a prissy choir girl makes her anything but his type. So he is more than surprised when after betting Abby she wouldn't last a week on their tour bus, she is more than willing to prove him wrong. But as Jake's personal life begins to implode around him, he finds an unlikely ally in Abby. He's never met a woman he can talk to, joke with, or most importantly make music with.

As the week starts comes to a close, neither Abby nor Jake is ready to let go. Can a sweetheart Country songstress and a bad boy of Rock N Roll actually have a future together?
Liezel's Thoughts:
"….I want someone like you to want me, not for Jake Slater the singer of Runaway Train. For what's really inside me."
I thought this story was very cutesy. It had an Olivia Cunning's Sinners on Tour feel to it but in a very much more vanilla way. Haha!
The way they meet is truly EPIC. I imagine them describing this event when people start asking them how they met the first time. Her really falling into bed with him.
I loved Abby's character in the story. Being raised in a very Christian way of life, you would expect her to be virginal, docile and innocent instead I meet an outspoken, witty and sexy firecracker. Jake being Jake treated her like crap in the beginning but she remained forgiving and understanding. She truly reminded me of an Angel.
Jake, on the other hand, such a manwhore… a typical rock star. Underneath it all though he had a big heart.The relationships he kept especially the one with his mother was remarkable. The way Abby brought him down to his knees was refreshing. He finally met someone who could keep up, his perfect match in every way. I'm glad that they also were both able to spend time with Laura (Jake's mom). It was heartwarming that Laura will move on knowing that there will be someone caring and loving Jake when she is gone.
The Verdict:
Things that I would have changed in the story:
There was just one questionable part for me and that was how Abby's family let Abby stay with some complete strangers for a week. If that was my child or sister, I would have been on the next plane to drag her by the hair and get her off that bus. I know she's an adult who could make her own decisions but these were complete strangers. I would have made this scene a little more dramatic somehow.
Also, the part where her family agreed to let her stay at Jake's farm to recuperate. Abby's family should have given Jake a harder time about the attack. I think that would have made the story so much more interesting.
Otherwise, it was perfect. I totally recommend this book for those looking for a heartwarming, rock star romance.
What I want to see in the next book?
I foresee this series going on for a while. There are 3 more band members in Runaway Train. Sure Brayden's already married but still, I would love to read about his and Lily's romance, maybe a novella about them? There's also the 2 brothers in Jacob's Ladder. I'm hoping that one of them turns out to be gay.  Which will be a shocker for Abby's parents!
I would love to hear about Abby and Jake's relationship in the upcoming books. When and where they get married. Do they start a family and live on the road. Wouldn't be that hard since they have their own tour bus. Maybe they hire a not so hot nanny with a fantastic personality and ends up with one of the guys. Looks like AJ's story is next, I'm hoping that the way he meets his girl is just as epic as Abby and Jake's story. I hope it's another musician as well. Maybe Jacob's Ladder is in search for a 4th member to join their band?  Real excited about the possibilities.
Song list:
Like A Virgin – Madonna
I Need You -Faith Hill and Tim MCGraw
If I Close My Eyes Forever – Ozzy Osbourne and Lita Ford
Forever Young – The Pretenders
Dame Otro Tequila – Paula Rubio
Mississippi Woman, Louisiana Man – Conway Twitty and Loretta Lynn
If I Die Young – The Band Perry's
Don't Want You To Stay – Kelly Clarkson f/ Jason Aldean
Beam Me Up – Pink
The Great Escape – Pink
Someone Like You – Adele
Islands in the Stream – Dolly Parton and Kenny Rogers
Ghetto Superstar – Mya Remix
Angel Band – Oh Brother Who Art Thou
Angel – Aerosmith
Let It Be – Beatles
All I Ever Needed– Paul McDonald and Nikki Reed
Casting picks:
Daniel Conn (author's choice) as Jake Slater. My Choice for Abby is Carrie Underwood
Related Posts