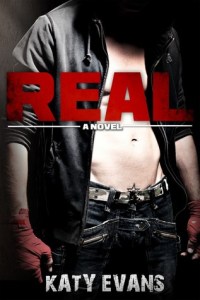 Real by Katy Evans
Series: Real #1
on April 8th 2013
Format: ebook
Source: Purchased
Purchase @ AMAZON  or  BN
Add to GoodreadsRating 

A fallen boxer.

A woman with a broken dream.

A competition…

IS HE FOR REAL?

He even makes me forget my name. One night was all it took, and I forgot everything and anything except the sexy fighter in the ring who sets my mind ablaze and my body on fire with wanting…

Remington Tate is the strongest, most confusing man I've ever met in my life.

He's the star of the dangerous underground fighting circuit, and I'm drawn to him as I've never been drawn to anything in my life. I forget who I am, what I want, with just one look from him. When he's near, I need to remind myself that I am strong–but he is stronger. And now it's my job to keep his body working like a perfect machine, his taut muscles primed and ready to break the bones of his next opponents . . .

But the one he's most threatening to, now, is me. I want him. I want him without fear. Without reservations. If only I knew for sure what it is that he wants from me?
Liezel's Thoughts:
"He wants to be my real, not my adventure. Even when he will be the realest thing in my life, I know it's still going to be an adventure. Because that's him. An exhilarating bungee jump… a free fall. Olympics all year round for me…that's what being in love with his is going to be life for me."
I seriously thought that no one could ever surpass the alpha male stories told by K. Ashley  but I was wrong, this one sure does. I choose this book because there were so many goodreads and facebook friends raving about it that I just had to fast forward it up on my TBR list and I am glad I did because this one exceeded my expectation on so my levels.
First we met Remington Tate, Riptide as known by the underground fighting community. He is every woman's fantasy. Masculine, virile, athletic, driven and focused on his sport, drips sex appeal and charisma in and out of the ring. Who wouldn't want a man like that?
Brooke Dumas was also an athlete, well I guess an ex-athlete. She was training for the Olympics practically  all her life but her dreams were shattered after a serious ACL injury. Despite this, she never saw it as a failure. Of course she was devastated but she overcomes this and decides to pursue a career in sports rehab. Just after graduation and still waiting on job prospects  she couldn't resist the offer Remy presents to her. So she decided to take him on as a client.
As she learns more about him, she discovers that there is so much more to him that his physical aspects. She tries to be professional about this but there is  just too much undeniable chemistry between them. But he's holding back. Brooke doesn't understand why. Even when  Brooke practically throws herself at his feet he continues to resist. Which I thought was honorable of him, she just wasn't a quick roll in the hay for him, she was everything and he wanted to make sure that all the cards were on the table before their relationship went any further.
"I'm so fucking in love with you I don't even know what to do with myself anymore."
The first half of the book was deliciously agonizing. I can best describe it as  "never ending foreplay leading to a massive explosion of epic proportions." He trains for hours, every single day. Think of all that stamina and virility that  a man like that could  possess. Good heavens!  I thought no one can out do Christian, Ethan, Jesse and Gideon… but Remy in my opinion out does them all.  Totally bumped him up to the top of my bbf list.
"….wired into my genes and DNA is a natural desire for healthy offspring, and with it comes a desperate urge to just full out mate with whoever I deem is the prime male of my species. I have never in my life met a man before who sparks up my crazy mating instincts like him…"
I am delighted that there is a book 2, titled Mine. There isn't a release date or a cover yet but I am hoping that it focused on Remy and Brooke's relationship and how Remy manages to overcome the trails and obstacles that may come his way. Obviously what he's going through isn't healthy and being untreated makes it even worst. The  constant physical activity was helping but I really think that something more needs to be done about it or I really can't see him having a  lasting relationship. One can only  take so much. I'm hoping that they are able to find a solution together . Please, please no more running! And of course he deserves the championship. The title "Mine"  also sounds like there's going to be an engagement/proposal or even a wedding in the works. And I know (based on how Real is written) that Ms. Evans is more that capable in delivering a  swoon worthy performance.  I also want to know more about Nora and Mel and hope in future books, novellas or spin-offs that they too get their happy ending.
The Verdict:
Playlist:
"You tie me up in knots…I want to play you a thousand different songs so you get a clue of what….I feel inside me"
Iris – Goo Goo Dolls
I Love You – Avril Lavigne
That's When I Knew – Alicia Keys
Love Bites – Def Leppard
High On You – Survivor
Love Song – Sara Bareilles
In Your Eyes – Peter Gabriel
Kiss Me – Ed Sheeran
Come Away With Me– Nora Jones
All I Wanna Do Is Make Love to You – Heart
Anyway You Want It – Journey
I Love You Like A Love Song – Selena Gomez
My Life Would Suck Without You – Kelly Clarkson
Flaws and All – Beyonce
The Fighter – Gym Class Heroes
Casting:
Tom Hardy as Remy. One hot delicious man!
I've been trying to find my Brooke but can not think of anyone who fits the bill just yet. Will edit when I find someone who can take on My Remy.
Related Posts