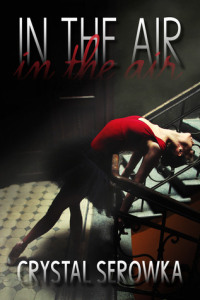 In The Air by Crystal Serowka
Series: The City #1
Published by Self-Published on March 26, 2013
Genres: Contemporary Romance, New Adult
Format: ebook
Source: Purchased
Purchase @ AMAZON
Add to GoodreadsRating 

It all began on a New York City sidewalk. It was so surreal. Juilliard, the enormous brick building that held my dreams and the possibilities of my future. I was prepared for the challenges ahead. What I didn't expect was to lose my focus the second I met him. Living the dance was no longer the only important thing in my life.

The City opened my eyes, but he transformed me.

Two dancers. One big city. He was determined to make a new start. She was ready to make it in the ballet world. Neither expected love to play a part in achieving their dreams. They also didn't expect it to be so destructive. Samson and Natalia took the leap anyway, not worrying about the fall.
Liezel's Thoughts:
Natalia just arrives in New York City to attend school at Julliard. As soon as she sees it she is mesmerized, seeing her dream right in front of her. Here she bumps into Samson. Natalia feels an attraction to him but comes off as abrasive and mean. She didn't want to be attracted to anyone, she just wanted to concentrate on her dancing. Samson too is attracted to her but he's already in a relationship. Both being as talented as they are the get paired together and the chemistry is irrefutable. After spending so much time together in and out of the studio they  just are not able to resist each other.
"I've never cared about the outcome of anything until now. You're my everything"
Trying to not giving anything else away! But anyhow, I really was excited about this book because it's rare that we find a story that involves the arts especially dance. I honestly can't think of ballet stories I've read yet so this really piqued my interest. To me though, the story was a little bit juvenile. Better if it categorized as a YA story. Being that it is a first novel, I do see a lot of potential. This one just skims the surface of what can develop into something fantastic.
Apparently there is a book 2 , YAY! I hope that the story tells us more about Julliard, the vigorous training and maybe even a performance. I foresee some conflict and drama caused by Samson's ex. I'm wanting to read scenes that involve both their parents. To see what their take is on their relationship. And I also want read a story about Kingsley. What made her the way she is? And how her relationship evolves.
The Verdict:
Related Posts