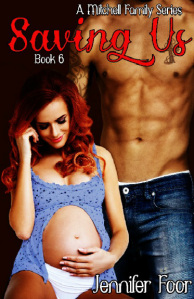 Saving Us by Jennifer Foor
Series: Mitchell Family #6
Published by Self-Published on March 22nd 2013
Genres: Contemporary Romance
Format: ebook
Source: Borrowed
Purchase @ AMAZON  or  BN
Add to GoodreadsRating 

Book six in the Mitchell Family Series starts off right where #5 left off. 
As Conner and Amy hope for a future together, they are faced with troubles standing in their way. 
With a baby in their near future, Conner takes charge and will stop at nothing until he can claim Amy as his, forever. 
There is only one thing stopping them...
Amy's ex.
Liezel's Thoughts:
" You have to know that you're all I want. Everyone has a past. I ain't proud of mine, but if I didn't have a fucked up past, I would have never found you."
Amy and Conner finally have their happy ending…or so they thought.  Amy's past eventually catches up with her. Her psycho husband just would not leave her alone. She is still constantly getting harassed and threatened and finally when Amy's salon is vandalized they decide to move  to Kentucky.
Despite the fact that she misses her friends and her father – she adapts well and finds happiness and contentment in her new life. It helps that she is surrounded by Conner's family most especially Colt and Van. At first she feels guilty for bringing trouble down on their family but Conner and the family constantly reassure her that this wasn't her fault.  Just when you think everything could be perfect, Rick finds his way back into their life.
"You don't know how long I've wanted to be surrounded by a family. The longer I'm around them, the more I love them."
At book six I thought that this series would get stale but to me it still remains as interesting as the first one was. What keeps it fresh is the fact that different characters are featured in every two books or so and we get to read two  POV in each story. I love that even if  the book is about Conner and Amy we still hear about Colt and Van, Ty and Miranda and also the kids. Think about it, what other series includes the whole family in a series? I love the family dynamics. Their bickering never gets old. To this day just thinking about  their antics make me laugh. The Christmas incident in the last book was just over the top hilarious.
"….you can always count on me to be there. I will be the best daddy to our child and I will love you for all the days of my life."
So about Conner and Amy… I was glad that Conner was finally able to find "the one". He was the black sheep for so long , I was happy that his love for Amy and their child was able to turn him around. Like his sister and his cousins he deserved his happy ending too, right?  Amy was perfect for him. After all  she was put through with her so-called husband, she deserved the happiness and content that the  family as a whole provided for her.
"I want you because I love you like I have never loved before. If you don't want me, I know I will never find another that compares."
The Verdict:
What I would have changed in this book?
First the cover. As the series progresses the book covers just seem to get worse. Book 5's cover was more acceptable than 6. Loved the first 4 covers. This one, not so much…
The other thing is the positions Conner put Amy in. Yeah the narration were steamy and  terrific but are those positions even possible with a pregnant belly?
I was also very unsatisfied with the Epilogue. Some stories just don't need one. Looking five years ahead especially if there's going to be a book 7  just seemed insignificant and unnecessary to me.
So about the next book…
Apparently we're going back to Colt and Van. And I'm a little hesitant about this. Those two have been through losing a baby, depression, a  failed retaliation  and a kidnapping what else could possibly be told about those two at this point? I just hope it is convincing and doesn't disappoint.
Crazy as it is, I kind of want to hear about Heather and Jessie. How she explains that situation to him and what his reaction is. And will he be able to accept her. They need a novella!
 I also want to read about the reunion between Ms. Silverman and her daughter.
My Casting picks:
Emma Stone as Amy and Colin Wayne as Conner.
Related Posts