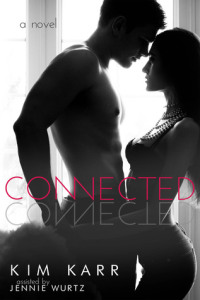 Connected by Kim Karr
Series: Connections #1
Published by Penguin on May 7, 2013
Genres: Contemporary Romance
Format: ebook
Source: Purchased
Purchase @ AMAZON  or  BN
Add to GoodreadsRating 

What if a 'Once in a Lifetime' could happen twice?

Suffering from a past full of tragedy, Dahlia London's soul has been left completely shattered. Happily ever after is a far cry from reality in her world. But, when she is reconnected with her past, the bonds that form are irrefutable.

When River Wilde, lead singer of The Wilde Ones, comes back into Dahlia's life, the intensity that fires their relationship combined with underlying feelings that have never died lead her to believe she has met her soulmate.

Struggling with confusion as old connections fade and new ones begin, Dahlia's grief begins to lift--but guilt remains. River wants to be the one to mend all that is torn within her.

But with a past that is never really gone, can their future survive?
Liezel's Thoughts:
"Dream as if you will live forever, live as if you will die today."
Dahl losses her first love, her fiancée, her longest and bestest friend Ben to an unexplained tragedy that happens right in front of her eyes. She struggles with nightmares and depression for  months.  Over a year has passed and with the encouragement of her friends she finally snaps out of it and decides to move on. She first decides to put " their " home on the market and begrudgingly accepts a  job offer forced onto her.
She finds herself heading to Vegas to interview River Wilde. A man she had connected with five years ago. That connection is unexplainable. Kismet. But then she ran away from it since she was then in a relationship.
As they reconnect, the bond they share is unbreakable, the love they share is immense and everlasting. Out of love, River dedicates his time to protect her – physically and emotionally almost to the point of dishonesty. Will their love survive the rough times when Dahlia discovers the secrets that River has been hiding from her?
"I've never wanted anyone like I wanted you then, like I want you now."
This is one of those stories where you ask yourself how could something so beautiful come from something so horrible…
Until you get to the Epilogue  with your mouth hanging open wide and your waxed eyebrows  are high up your scalp thinking "WTF just happened?"
I sure as hell didn't expect all that and I'm known to predict most stories.  This one definitely came out as a shocker to me, who would have thought…. ahhh, I so need a friend right now to discuss said ending!


"I'm so addicted to you, everything you do, it doesn't matter if you're walking or dancing, when we're standing here, the sounds you make and the smile on your face, they're unlike anything I've ever seen."
I really did love this one, the only thing about it was it left me very unsatisfied. While the passion and chemistry between  Dahl and River was deliciously AMAZING and really well written,  for once I found myself fast forwarding through all the romance (which is unheard of!) and wanting to get back to the real story. There were just so many open-ended plots,  so many questions left unanswered… it left me wanting more! Say…way above average cliffy.
"I feel like fate has brought us together again. I also believe that one night, so long ago, just wasn't the right time for us. But tonight is."
The Verdict:
What I expect in the next book:
I expect to read more about this said "Connection". There is more than being soul mates. River is absolutely hiding something from her and it's something major. While I have my suspicions  , I can't say cause it sure will spoil this story for you! Will their love survive this secrecy and betrayal?  I  think soul mates can get pass anything! So they will or I'm hoping they will but there will be SO MUCH heartache in the sequel I'll be sure to keep an unopened bottle of wine sitting next to my e-reader before starting that one.
Related Posts