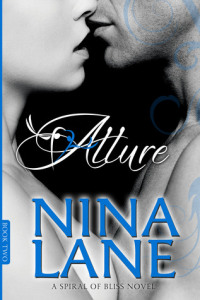 Arouse by Nina Lane
Series: Spiral of Bliss #1
Published by Self-Published on December 24, 2012
Genres: Contemporary Romance
Format: ebook
Source: Purchased
Purchase @ AMAZON
Add to GoodreadsRating 

Struggling with a tormented past, undergraduate Olivia Winter once led a practical but isolated life. Then she met Professor Dean West, a brilliant scholar of medieval history who melted Liv's inhibitions and taught her the meaning of both love and erotic pleasure. But after three years of a blissful, lusty marriage, Liv and Dean now face a crisis that threatens everything they believe about each other...and sex might not be enough to save them.
Liezel's Thoughts:
"One day I'm going to touch you in a thousand different ways and show you how to touch me."
It all started with a pregnancy scare. Having a horrible childhood, Liv mentioned  early on in their relationship that she  never wanted to have kids and he was always accepted her decision.
But seeing  Dean's relief  when the pregnancy test was negative made her start thinking.  Why  did his reaction bother her so much ? Did he think that she was unfit to be a mother because of her childhood ?   She began regretting her decision and approached her husband about it but he was not receptive at all. Being unemployed Dean thinks that the reason why she wants kids all so suddenly is because of boredom.  But it isn't about that at all.
Dean starts becoming distant. Unbeknownst to Liv , he is hiding something important about his past.
The dishonesty, the secrets and the lack of communication starts to tear their marriage apart. Add a third-party into the mix and the situation gets even worse. Will their passion and their love be able to save their marriage?
"I love this moment of being close to my husband again, hearing the pound of his heart against my ear, the heat of his body flowing into mine."
I really loved this book.  Witnessing the first meeting, the attraction and courtship, the falling in love and their day-to-day lives as a married couple was so spot on!  We rarely get to read stories about a married couple and the trials and tribulations they go through to keep their marriage together. It was so true to life, as if  this whole crazy situation could have happen to any one.
The only thing that was a little off about this story was that they seemed to not have a single thing in common (but it looks like that is about to change). But she was dubbed  "the love of his life". Is it possible to maintain a relationship like that? I don't know. Maybe that was another reason why they were having issues.  Their physical intimacy and passion was perfect but other than that there wasn't much else there.
I hated how they fought. He was so mean to her too.  The words he said were so hurtful.  I so wanted to slap him myself. Dean aggravated me by those words and also his lies.  I almost  want her to end up with someone else! How can you hide something that important from someone you love? Can they ever rebuild that trust?
This one is also a major cliffhanger. Glad I don't have to wait that long for this one. I want to know if they are able to resolve their issue before this life changing event . She's  pregnant of course – after all that avoidance! Now they will have something in common but having a child together shouldn't be just an excuse to keep  their marriage together. Right? I just  hope they get their $hit  together  both for their sakes and the sake of their unborn child. And I hope it's really good….Really looking forward to this one!
The Verdict:
My Casting Picks:
Pictured someone older for Dean West but attractive….so maybe Peter Facinelli? And a popular pick for Liv was always Rachel Bilson.
Related Posts