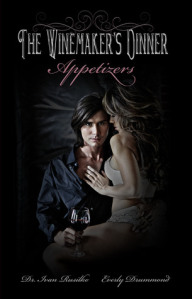 Appetizers by Everly Drummond, Ivan Rusilko
Series: Winemaker's Dinner #1
Published by Self-Published on July 31st 2012
Genres: Contemporary Romance
Format: ebook
Source: Borrowed
Purchase @ AMAZON
Add to GoodreadsRating 

Recently named executive chef at one of Miami Beach's hottest restaurants, Jaden Thorne is determined to make her culinary mark and fulfill her professional dreams. When Jaden is given highly coveted tickets to the ultra-exclusive Winemaker's Dinner, she jumps at the opportunity to meet South Florida's wealthiest and most influential food and wine enthusiasts.

Jaden's eyes are drawn to the VIP section even before the appetizers appear, but she soon finds herself thinking less about networking and more about the intriguingly sexy stranger eying her from across the room. After dinner, what begins as a light-hearted flirtation unexpectedly catapults into a night of explosive passion. But when morning dawns, Jaden leaves her sleeping Mr. Oh So Sexy behind, sure they'll never see each other again.

Dr. Ivan Rusilko, a handsome, young physician, boasts an extensive resume' and a well-established position on Miami Beach's social scene. But despite his success and glamour, he's routinely had to suffer uninspiring dates and doomed relationships. With a romantic heart, Ivan's not the love-'em-and-leave-'em type. But when he awakens to find that the girl in the red dress has done exactly that, he resolves to find her–only if it's just to ask why she left without even a kiss goodbye.

The Winemaker's Dinner is a fictionalized erotic memoir inspired by the romantic triumphs and tragedies of Dr. Ivan Rusilko's real life. Weaving fact with fantasy, authors Everly Drummond and Dr. Ivan Rusilko have gifted readers with a swoon-worthy flesh-and-blood romantic hero and the intoxicating bouquet only a heartfelt tale of passionate love can create.
Liezel's Thoughts:
"Life is short: Forgive quickly, kiss slowly, love truly, laugh uncontrollably, and never regret anything that made you smile. Jaden, you made my soul smile, and I'll never forget that."
So I decided that I would try to read most (if not all) authors attending Book Bask 2013 in Orlando so I can figure out who I really need to make time for. Hey, time management is essential in these sortsa things. It's only four hours and I need to make the most of it right? And I have never heard of this series until the last book dropped so I thought I would try it out. Finished it this morning and thought… OMG, why didn't I discovered this series sooner?  In a way, it's kind of a good thing coz the whole series is out there. But the bad thing is… I have to study 7 chapters tonight for some work related certification…and I really need to study and try NOT to bury myself in Jaden and Ivan's story.
Temptations! Temptations!  If I do fail my test on Wednesday… I blame you Dr. Ivan.
"Jaden, with you, I think I've finally found my miracle, my once in a lifetime. I love you more with each breath you take and with every smile that graces your face. I know I'm in love with you, because you make every day I'm with you the best day of my life".
What I loved about this story? This one was a love at first sight kinda thing. I stereotyped this guy to be a womanizing, one night stand, kiss and tell, love them a leave them type of guy. But he's not even close to any of that. Learning more and more about him as the story went on made him even more lovable. Everything about him is perfect.  Romantic, successful, SELFLESS, loving and  even a family man… this list goes on and on! I loved how they fall in lust, then in love. How they professed their feeling up in that cabin. So swoon worthy. I thought multiple times… this really can't possibly have been written by a man, could it? I honestly wondered what was the percentage between that collaboration. I need to research this or it's going to bug me all week!
"Never in my life have I met anyone like you. You've given me more joy in the past few months that most people know in a lifetime. I don't know what I did to deserve you, but here you are, offering me what  I've been searching for my entire life. The words 'I love you' don't even come close to what I feel about you, Ivan. I could say I love you a million times over, and it still wouldn't be enough. I love you, Ivan. I love you more that life itself…"
 So… about the next two books… I really want to bypass book 2 because I don't want to start hating Jaden because of the  discretion. How could she even do that to him! But I also want to know what lead her to even think about risking EVERYTHING and if the dude was even worth it. Why, oh why? In the long run I guess it'll help strengthen their relationship but still – a heartbroken Ivan just makes me sad. I hope in book three, they resolve their issues and get married and have 12 kids…
Okay, I'm done for now. This review was rushed as you can see, I just had to put my thoughts out there before I forget everything while studying  myocardial infarctions. I'll most likely revamp this whole thing Thursday!
The Verdict:
Related Posts