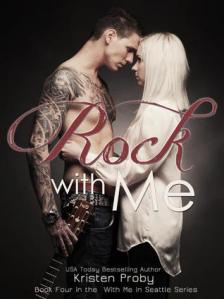 Rock With Me by Kristen Proby
Series: With Me in Seattle #4
Published by Self-Published on May 1st 201
Genres: Contemporary Romance
Format: ebook
Source: Purchased
Purchase @ AMAZON  or  BN
Add to GoodreadsRating 

Front Man Leo Nash from the world-famous rock band, Nash, is the last person on earth Samantha Williams would trust. She's already learned about loving a celebrity the hard way and isn't signing up for another lesson.

Every time Sam gives Leo attitude, he wants to knock that chip off her fragile little shoulder. What the hell did he ever do to her, anyway? He's not used to women treating him like he's poisonous, and he isn't about to let her run away every time he gets close. He's had enough of people running away to last him a lifetime...when this one runs, he gives chase. But, catching Sam isn't as hard as he thought.

The sexual attraction between them is so thick, Sam can practically hold it in her hand. There's no way she can deny herself the promise of pleasure being with Leo would provide.

But, pleasure always comes with pain and when secrets are revealed and trust is challenged, who will run and who will chase?
Liezel's Thoughts:
"You are everything I've ever wanted, Sam. More than music. More than anything."
I always wondered what Sam's issues were. Why did she seem so brazen and guarded? Why did she have issues with Leo without even really getting to knowing him. Originally I thought it was because of a rock star stereotyping . She pegged him as an egotistical ass but it was more than that. Because of a previous relationship, she  just  had an adversity to celebrities in general.
Leo wasn't used to being ignored by any woman. They normally threw themselves at his feet  – they adored and worshipped him, begged for one night with him but Sam never gave him the time of day. He teased and tested her as soon as they met and he loved the challenge that she  presented. What was it about Sam that drew him in?
"I want to give you the world. I love you so much, and I want to be with you everyday."
Being that Leo's foster-sister (Meg) was now involved with one of the Montgomery men they kept bumping into each other at family dinners, gathering and/or meetings. One thing leads to another and their relationship evolves. And oh was it fantastic!  The buildup, the chemistry, the romance,  the passion… HOT HOT HOT!
Absolutely LOVE this series!  You would think by book 4 it would start getting old but to me it just keeps getting better and better. What makes this one stand out to me is that as the series goes on we continue to witness how the previous couples and also  the extended family's relationship continue to grow. Even if they are included in the story, it never out shadows the couple being featured. I love the family dynamics. How much they would sacrifice for each other most especially Sam. Her loyalty to Luke and even Will was admirable. And I'm sure  every single one of them would do anything for each other.
What I'm looking forward to in the next book? Looks like it's Caleb and Brynna's story. Wonder what he's protecting her from? Crazy ex maybe? I'm wondering if Meg and Will will be getting married in the next book. Maybe Leo and Sam would host they're nuptials at their newly build mansion on top of that cliff. Romantic! I am also hoping that Sam gets a huge rock to. I know that she wasnt keen on a proposal and marriage in general but everyone else is doing it they should too!
The Verdict:
Casting:
The author's choice for Leo Nash was Sulan Von Zoomlander. And for Samantha I would prefer someone like Rachel Taylor.


Related Posts