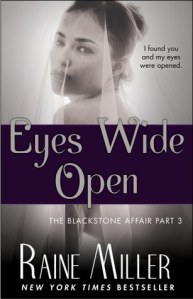 Eyes Wide Open by Raine Miller
Series: Blackstone Affair #3
Published by Atria Books on May 14, 2013
Genres: Dark Romance, Erotic
Format: ebook
Source: Purchased
Purchase @ AMAZON
Add to GoodreadsRating 

Big surprises are on the horizon for Ethan and Brynne as they struggle to adjust to what life has thrown at them. Demons from the past are threatening to destroy the passionate bond they've forged despite their vow that nothing will ever keep them apart. A truly devastating loss coupled with the promise of a new hope opens their eyes to what is most important, but is it possible for the lovers to move on from the painful histories that continue to haunt them? A stalker is still lurking in the shadows, plotting evil amidst the distraction of the 2012 Olympic games in London. Brynne and Ethan are on the cusp of losing everything as the stakes rise. Will they yield to circumstances beyond their control or will they give every ounce of fight they have left to save each other and win the ultimate prize of a life together?
Liezel's Thoughts:
"..I do love you with all my heart. Never doubt that. You're my girl, and I want you and I need you forever…."
I was immediately caught back into Ethan Blackstone's spell. His every move, his every caress, his actions – every single profession of love for Brynne was simply perfection. The beginning mostly consisted of Ethan and Byrnne expressing their love for each other and making that commitment.  In comes the massive amounts of detailed, steamy hot yet passionate romancing. The way their physical relationship was written in both their POV's was terrific. Then comes the surprise!
I was questioning why it took her a minute to realize what happened. Women just know these things (I thought). What was also questionable was she was still on birth control and anti-depressants for a good what six weeks or so. Kinda makes me wonder about the blueberry /raspberry/peach's viability. I know  I'm cray-cray when it comes to medical specifics.
"…my eyes have really only been opened since you came into my world. You gave me everything. You made me really want to see what was around me, for the first time in my adult life. You made me want you. You made me want…a life. You were my greatest gift of all…"
The suspense towards the end was mediocre. I was wanting that sequence and the "celebration" towards the end just as detailed as the steamy sex scenes. Who wouldn't want to read about the perfect wedding? But then the story would have been way too long ending it probably stretching into the 4th book.  ( Which I heard there is a 4th) . Even with this and the predictability to me, it was satisfying. I am happy how they ended up getting their HEA.
Despite the hang-ups I had as listed above… I'm not going to lie…this series has always been one of my favorites because of the DJG inspiration. I don't care what other woman say in the forums, comments and posts about his unbleeped…bleeped-like….bleep-er. That is one fine man and OMFG that voice and accent – don't even get me started about that. From start to finish all I could hear is David's voice uttering those words and all I could do is sigh and swoon. And I am so not a swooner!
The Verdict:
Reading Order/Amazon Links to Purchase:
Related Posts