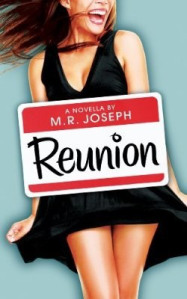 Reunion

by M.R. Joseph
Series: Reunion #1
Published by Self-Published on January 27th 2013
Genres: Contemporary Romance, New Adult
Format: ebook
Source: Purchased
Purchase @ AMAZON
Add to GoodreadsRating 

Savannah Garrett had always had a good head on her shoulders. She was well-educated and had a fantastic teaching job at a prestigious school in Boston. Her life was just where she wanted it to be until she returned to her home town in the suburbs of Philadelphia for her 10 year class reunion.

Seeing old friends and reminiscing about her high school days was expected. Seeing her first love after five years was not. Can she handle seeing Sam Reynolds after all this time and could she get through the hurt and pain their past relationship had caused?

Can there be a second chance for Savannah and Sam or would a deep, dark secret destroy their chances of happiness?

Summer Lovin' Indie Reader Party
Author Spotlight Featuring:
M.r. Joseph's Reunion
Liezel's Thoughts:
"You don't need someone to complete you. You only need someone to accept you completely."
Ever since Sam "accidentally" crashed into Savannah back in their school hallway he knew that she was the one for him. For years they had  a relationship  that everyone envied, a relationship where one would think that could last forever but because of their busy work schedules, the long distance and temptation Savannah begrudgingly gives Sam his freedom that he hesitantly asks for. Over the years she tries to avoid him but since they grew up in the same hometown and  keep the same set of friends  their paths  keep crossing.
As their ten-year Reunion approaches, she dreads attending but her best friend Tyler promises her that he won't be there. She agrees to go and was enjoying her evening but guess who shows up, Sam. Even when they are not together, they both continue to try to hurt each other through jealousy.
Everyone except them can see that they both are still in love but neither wants to take that first step.  Finally after a third party's confession, Savy decides  go after him. They do reunite and I must say …what a reunion it was! Just when you think that they would be together forever  unacceptable secrets are spilled. Painful secrets that  Sam can just not accept. Despite all the love that they just professed, he simply cannot get past it. This time he  lets her go.
She tries to move on with her life. Moves closer to home, starts a new job that she absolutely loves. She even starts dating. But she just can't get to where she needs to be happy. Then the unexpected occurs…

I honestly never heard of this book before but as a favor to  Audrey I volunteered to read and review it for this tour. Finishing it last night and I thought… why haven't I discovered this writer or this book sooner? I absolutely loved it. I love that the story is something that everyone could relate to… Reunions.
The character and story line were so realistic that you couldn't help  empathize. Yes it was emotional and raw. Gosh, that one scene seriously tore me apart. I love that this one too was family oriented that dealt with real family issues. I enjoyed hearing about Savannah's beautiful friendship not only with her mother but also with her sister and her friends and also reading about some of the issues that they too had in their lives.
Although it took them YEARS to get to where they needed to be, I thought that it was perfectly played out. Sam and Savy's relationship, their love, the chemistry and their passion was just impeccable.
And I ABSOLUTELY adored the epilogue. For once I got to read a story that didn't leave me hanging! Consider me a new fan. Two thumbs up to you MR Joseph.
The Verdict:
(Lauren Hill Version)
My Casting Picks:
Of course I had to choose an athletic hunk,  smoking hot quarterback for this one…. Tom Brady as Sam Reynolds.
I wanted a singer for Savannah and thought of Mandy Moore.
Friday, July 12th
Time: 6-11pm
Timeline: 6-9 signing, 9-11 party (dancing and drinks)
Place: Pomona Valley Mining Co. (1777 Gillette Road Pomona, CA 91768)
$10 Entry Fee gets you in the door with light appetizers, dancing and a swag bag! Come and meet some of your favorite authors!
Pre-purchase your tickets from the link below:
GIVEAWAY:
Click below for a chance to win 3 Paperbacks from these authors:
Catherine Bybee ♦ Nyrae Dawn ♦ Kailin Gow ♦ Melody Grace
Kailin Gow ♦ Melody Grace ♦ Audrey Harte ♦ MR Joseph
Kimberly Knight ♦ Bethany Lopez ♦ Raine Miller ♦ Addison Moore
Monica Murphy ♦ Julie Prestsater
Kristen Proby ♦ Elizabeth Reyes
CJ Roberts
Related Posts