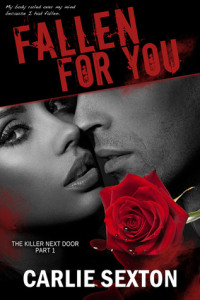 Fallen For You by Carlie Sexton
Series: Killer Next Door #1
Published by Self-Published on June 6, 2013
Genres: Romance, Suspense
Format: eARC
Source: ARC
Purchase @ AMAZON  or  BN  or Purchase @ eStories
Add to GoodreadsRating 

If you believe your life is the sum total of your choices, what do you do when things just don't add up? You are about to find out. It won't be pretty. It won't be dull. And surely, it won't be safe. In fact, making just one wrong choice could put evil at your bedside watching you sleep.

And so it is with Kate Simmons, a young woman who, by choosing to regain her life, actually puts it at risk by the very choices she makes. After unimaginable heartbreak stops her world on a dime, Kate falls into a three-year blackness of self blame that brings her to the edge of life, itself. As time finally brings light back through tiny cracks of renewed desire, Kate moves out of the prison she made for herself in her mother's home to find a new reality, rooming with her best girlfriend, Charlie.

Yet, to be free is to be vulnerable, and Kate's choices more than ever mark a splattered line between being happy and being dead.

Care to choose? Here's your menu:
A strangely alluring building manager so possessed with wanting you for his own, he'll bury more than the fact he has a girlfriend; a buff college student for whom you are clearly hot, as are all the other girls on campus; a pushy lawyer who is as handsome as he is intoxicated with conquest, who doesn't take no for an answer, who gets what he wants — always.

Sometimes, it's whom you choose. Sometimes, it's who chooses you. If you're Kate, it's both, and it puts you on a perilous road where good looks and humor are the thin masks of jealous delusion and utter violence.

You're in trouble when the sum total of your choices is written in blood red.
Liezel's Thoughts:
For the past three years, Kate has been grieving the loss of a loved one. She's avoided relationship and men in general since that incident. Finally one day she decides it is time to move on and also move out of her mother's house and looks for an apartment with her best friend Charlie. They find a nice apartment near her school and they meet the gorgeous manager – Roger.
Roger is immediately taken with Kate even when he mentioned that he had a girlfriend. This doesn't stop him at all. Thinking he was just the friendly landlord she agrees to have coffee with him.
That same week she goes to school meeting another delicious man – Mark. He is simply irresistible and the whole female populace seems to think so too. He is constantly flocked by women. She pays him no attention but Mark loves a challenge and immediately makes his intentions known to her.
Since she was new to the college she was also scheduled to meet a mentor but he ends up being a no-show. Annoyed, she goes to work thinking nothing of it. Surprisingly that same night, the almost-mentor  Neil decided that she owes her an apology and soon enough relentlessly starts pursuing her as well.
For someone out of the dating scene for more than three years, she is now stalked, propositioned and chased by three delectable men that just won't  take "NO" for an answer. To what extremes will these men push to obtain her?
I was given the privilege to review this book before it's June 6th release and I must say I am amazed and captivated by this story. The author was able to grab me within the first two chapters and held my attention throughout this thrilling book. The chemistry was great, the characters fascinating,  the romance was terrific, the suspense was horrifying yet not in any way gruesome and the storytelling was superb. The only thing about this one is the cliff-hanger (hence titled Part 1). Don't be discouraged though because it seems that the whole story will unfold this summer.
For a debut author, I commend you Carlie Sexton for delivering such a great story. Can't wait to read the rest!
The Verdict:
Book Casting:
Aiden Turner as Neil.
Tyler Hoechlin as Mark.
Daniel Sunjata as Roger
and Chrishell Strause as Kate.
Related Posts