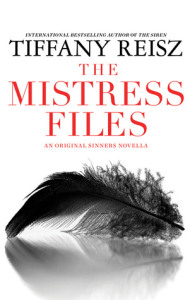 The Mistress Files by Tiffany Reisz
Series: The Original Sinners #3.5
Published by Harlequin MIRA on June 1st 2013
Genres: BSDM
Format: ebook
Source: Purchased
Purchase @ AMAZON  or  BN
Add to GoodreadsRating 

Kingsley Edge, king of kink himself, wants Mistress Nora to write a training manual to instruct his other professional Dominants how to take better care of their clients. But Mistress Nora can't put pen to paper without churning out a sexy short story and Kingsley's training manual quickly turns into true tales of her adventures with her favorite clients.

A female submissive who can't orgasm.​

A male Dominant too scared to do kink with his blind wife.​

A rock star with a secret.​

A vanilla gay woman with an embarrassing little problem. ​

A male switch with an itch for more than just pain.​

These are their stories.
Liezel's Thoughts:
"Sex does matter in a relationship. Anyone who says differently is fooling themselves because they've never had good sex."
I was really REALLY on a tight schedule this week but decided I needed to take a break from long list of my need to read and  review contemporary romance. I wanted Epilogue badly but since it didn't automatically appear on my kindle app at midnight I settled for the next best thing… The Mistress Files.
The book contains five VERY different short stories describing her encounters. Each story in its own way is unique but of course always end up with one happy client.
"You belong at the feet of a man who owns you and treats you like his property and inflicts orgasms on you like a punishment……"
Normally I stay clear from short story book compilations but this one … no doubt was worth my time. I loved how the Mistress wasn't just there to get each person OFF, but she was there to help… almost like a therapist really. I loved that she got to know each person – learn their preferences and even each of their backgrounds.  Nora's character is just so compelling – her personality, especially her wit is just unbelievable. If you asked me today which top 3 book characters made the strongest impression on you – she would unquestionably be on that list.
Like always the writing is superb , witty, written eloquently,  the description of every scene is perfectly detailed it just begs you for MORE, MORE, MORE!
If you haven't read this series you are most definitely missing out. +++++ Must read for me.
The Verdict:
Related Posts