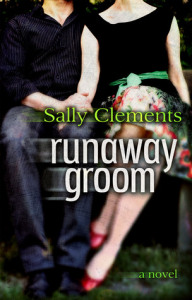 Runaway Groom by Sally Clements
Series: Logan #1
Published by Self-Published on June 7th 2013
Genres: Contemporary Romance
Format: eARC
Source: ARC
Purchase @ AMAZON  or  BN
Add to GoodreadsRating 

Seven years ago, Matthew Logan ran out on his wedding to June Leigh.

Life is good for fledgling dress-designer April Leigh. She couldn't be happier that her sister has found a new love, and is excited about her very first commission, June's wedding dress.

When April discovers June has invited runaway groom Matthew Logan to the wedding, she has to intervene. Matthew's presence will ruin everything – her father hates him, and just the sight of him in the church might give her mother a heart attack.

Matthew Logan has no intention of going to June's wedding, but when intriguing April arrives on his doorstep, he can't resist getting to know her better. When a disaster forces them together neither can deny the passion that combusts into a red-hot affair.

Discovering the truth about the past shifts April's feelings from lust to love, but bitter experience has taught Matthew to guard his heart.

When it looks as though Matthew will lose her forever, will he fight or flee?
Liezel's Thoughts:
My curiosity got the best of me tonight. I signed up for this book blitz and decided I just have to find out for myself –  what could possibly make the groom cancel his own wedding?
Oh yeah I was a slightly perturbed at Matthew for cancelling but as I was reading along he started sounding like a man who couldn't have done such a horrible thing. Come to find out he had one big legitimate reason. He was the gentleman in the whole situation and agreed to become the scapegoat. I  also loved April's character in this story. She was most devoted to her family – most especially towards her sister June. You would think that after all the things that June put her through she would have balked but nope she was just as steadfast as ever.
While I was worried that the author wouldn't be able to justify Matthew's actions in multiple situations I was surprised at how flawless it all  unfolded. The tension between the characters was quite remarkable and well-played out. The romance was simple and sweet and in no way was it rushed.  To me I thought everything about it was perfect.
If you're curious like me and  looking for a sweet and easy read than this is one that I would highly recommend.
The Verdict:
Excerpt:
April walked before him up the path to the house they shared. The sway of her hips in the warm claret-colored dress mesmerized. The back of her calves, the indent at the back of her knee so smooth, so touchable. Would her skin be warm under his fingers?
She slipped her key into the lock as he came up behind her quick and close. His hand slipped around her waist as he breathed in the scent of her hair.
She leaned back, angling her head to the side. A sound somewhere between a moan and sigh rippled from her throat, making him harden instantly.
Matthew's palm was flat against the front door. The moment it opened, she turned, sliding her hands up his jacket and into his hair. This moment had been too long coming. Every moment in the restaurant had been torture; talking business when instead his entire being demanded he get April alone. Now, at last, the moment had come, and he wasn't wasting a single minute.
 eBook copy of Runaway Groom. Books will be gifted from Amazon only by the author.
Related Posts