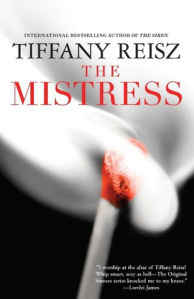 The Mistress by Tiffany Reisz
on July 30th 2013
Genres: BSDM
Format: eARC
Source: Netgalley
Purchase @ AMAZON  or  BN
Add to GoodreadsRating 

There's punishment-and then there's vengeance.

Nora Sutherlin is being held, bound and naked. Under different circumstances, she would enjoy the situation immensely, but her captor isn't interested in play. Or pity.

As the reality of her impending peril unfolds, Nora becomes Scheherazade, buying each hour of her life with stories-sensual tales of Søren, Kingsley and Wesley, each of whom has tempted and tested and tortured her in his own way. This, Nora realizes, is her life: nothing so simple, so vanilla, as a mere love triangle for her. It's a knot in a silken cord, a tangled mass of longings of the body and the heart and the mind. And it may unravel at any moment.

But in Nora's world, no one is ever truly powerless-a cadre of her friends, protectors and lovers stands ready to do anything to save her, even when the only certainty seems to be sacrifice and heartbreak...
Liezel's Thoughts:
If you haven't read the first three in this series than this book would make no sense to you at all. Get to reading if you are inclined to dark suspense, BDSM – erotica with a twist.
The story immediately continues right where The Prince (Book 3) left off with Nora being kidnapped by one vengeful and psychotic woman. Marie-Laure managed to fake her death and disappears for thirty years but it takes an uncovered secret to decide that it is time to seek her revenge against her very own brother Kingsley and her "husband" Sσren.
In despair, her lovers and friends bind together. As they plan her rescue, unlikely friendships and relationships start to form. But who will make the ultimate sacrifice to save the woman that they all love?
Call me crazy but for some odd reason, I just have this great fondness for dark romance. Between The Original Sinners and The Dark Duet Series I would say that these two are neck and neck when deciding which is my favorite.
The writing is just simply eloquent. Not only do we get entertained with a dark romantic story , we also get a history lesson or two. Most importantly we also get a glimpse into the BSDM lifestyle. While Marie-Laure called it perverse, Nora finds a way explain perfectly what it is like to be in such a relationship.
There are multiple POV's in this book. Six to be exact. Now I know you would think that could get really confusing but the POV's are so well entwined together that all the different voices compliment each other in every way.
While Nora was in captivity she was forced to tell stories about her different relationships. So besides the main story, there are multiple anecdotes which I thought was a perfect way in tying all the previous books together. I for one just could not get enough.
I admit that some of the components do delve into taboo subjects (especially in regards to religious practices) and would make most uncomfortable but this is what makes it stand out from the rest. This is what makes the story incomparable.
I can say that this one is emotionally charged and heart wrenching , that walk just unglued me. I sobbed like a baby, threw a fit like a toddler. It just left me bare. I'm not a hugger but good heavens I seriously needed someone to comfort me right then and there. I needed a "Grace".
If this is the last one in the series that this is the way to do it. Go out with a bang. The end was just impeccable. Tiffany Reisz just knows how to weave an exemplary tale. 10 stars from me.
The Verdict:
Reading Order:
Related Posts