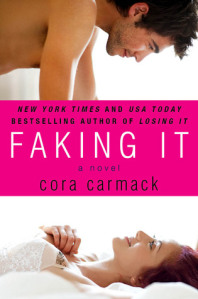 Faking It by Cora Carmack
Series: Losing It #2
Published by William Morrow on June 4, 2013
Genres: Contemporary Romance
Format: eARC
Source: Edelweiss
Purchase @ AMAZON  or  BN
Add to GoodreadsRating 

Mackenzie "Max" Miller has a problem. Her parents have arrived in town for a surprise visit, and if they see her dyed hair, tattoos, and piercings, they just might disown her. Even worse, they're expecting to meet a nice, wholesome boyfriend, not a guy named Mace who has a neck tattoo and plays in a band. All her lies are about to come crashing down around her, but then she meets Cade.

Cade moved to Philadelphia to act and to leave his problems behind in Texas. So far though, he's kept the problems and had very little opportunity to take the stage. When Max approaches him in a coffee shop with a crazy request to pretend to be her boyfriend, he agrees to play the part. But when Cade plays the role a little too well, they're forced to keep the ruse going. And the more they fake the relationship, the more real it begins to feel.
Liezel's Thoughts:
We first meet Cade in book 1 – Losing It. He is this all around terrific guy that fell really hard for his best friend Bliss but the feelings were never mutual. We experienced his heartache as he gets a front row seat in watching Bliss fall into the arms of their then teacher – Garrick. What made matters worst is he moves to the same city that Bliss and Garrick also moved to and even though he says that he is happy for his best friend he still has this ache seeing them together. He tries to move on but he just isn't quite there yet …then he meets Max.  Cade was just at the right place at the right time. Just after he met Bliss and Garrick for coffee, he decided to stay longer to people watch.
Max was desperate, her parents were in town and she needed a stand-in boyfriend in less than five minutes. As her eyes gazed upon Cade alone at his table she knew that he was the one that would fit the bill. They were complete strangers but somehow were able to pull their little charade off. While their pseudo relationship was intended to last for a couple of hours they both felt a connection. They were both ready to just let go and not pursue it. Cade just wasn't ready and Max was already in a relationship but fate just kept pushing them together. As they get to know each other better, they knew that it was inevitable but will both be able to let go of their past to have a future together.
"There was too much pleasure, too much want, too much beauty beneath me. There was too much everything. The world seemed to expand and accommodate the power of that moment. Something shifted between us- small an ineffable- but we ceased to be whatever we had been before and became something new."
As much as I enjoyed Losing It (Book 1), I appreciated Faking It even better.  I thought that the story was really well paced and flowed smoothly. While the book was emotional, the author still somehow made it where it was witty and fun especially when Max's mother was involved. Although it took them awhile to admit how they felt, the chemistry between the two was undeniable. To me, it had  just the right amount of angst. I loved the dialogue and how detailed the author explained both Cade and Max's emotions.  You couldn't help but identify with both most especially with Max and how she struggled to be someone she isn't just for her parents sake.
The best yet is that even though this book is part of a series, the author made it to where you can read it as a standalone without an annoying cliffhanger. But believe me, you can't read just one… both are different and highly addictive. I won't be surprised if you read them more than once like I did. Looking forward to reading Book 3 – Finding It (Kelsey's Story) due out in October.
The Verdict:
Review copy provided by:
Related Posts