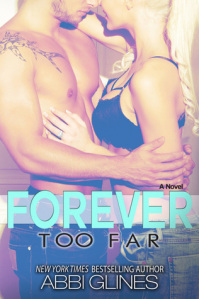 Forever Too Far by Abbi Glines
Series: Too Far #3
Published by Self-Published on June 9, 2013
Genres: Contemporary Romance
Format: ebook
Source: Purchased
Purchase @ AMAZON  or  BN
Add to GoodreadsRating 

Rush promised her forever... but promises can be broken.

Torn between his love for his family and his love for Blaire, Rush has to find a way to save one without losing the other. In the end one has to be more important. Letting go isn't easy.

Blaire believed in her fairytale... but no one can live in a fantasy.

Her love for Rush and desire to have a family keep her believing that they can find a way for this to work. Until she has to make the right decision for her and the baby. Even if it breaks her heart.

Can they find the forever that they both want or has it all just gone... too far?
Liezel's Thoughts:
Nothing in life was as precious as this woman. It never would be. I'd found my happiness.
Comparing the Rush that we first met in Fallen Too Far (book 1) he has come a long way. He's practically a new man. And what changed him was his unfaltering love for Blaire and that of their unborn child. While he could be a little overbearing at times, I thought it was adorable. I loved Blaire as well and I'm glad she wasn't a pushover. She never hesitated and stood her ground in what she believed what was right.
I enjoyed how both their fathers were in the picture and how the relationships between them developed. The only thing I found daunting was Nan – she was immature and irritating. Crazy with a capital K.
I love you, Rush Finlay. You are going to be the best husband and father the world has ever known. One day our son's wife will be thankful that her husband will have had you as a role model. She'll be lucky because of you. Because you will have raised our son to be the man that you are. He"ll love her completely because he'll know how."
After finishing the story, I was contemplating if all THAT was necessary in the book. And I've decided that it was. If Nan wasn't the way she was – the story would have been unbelievably TOO perfect. It did make her standout and I'm wondering if Abbi Glines has something planned for her. If so, it sure is going to take one fearless man to reign that one in and secretly I'm hoping it's  "Captain".
The bottom line is I thought the ending to the Blaire-Rush saga was enjoyable. I thought that Nan created just the right amount of tension to keep the story interesting and I for one would love to read the spin-off(s) that'll come from this series.
The Verdict:
Related Posts