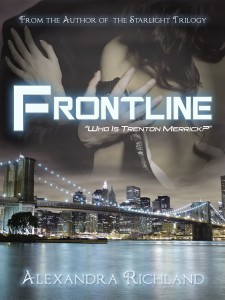 Frontline by Alexandra Richland
Published by Self-Published on August 6th 2013
Genres: Contemporary Romance, Suspense
Format: ebook
Source: ARC
Purchase @ AMAZON
Add to GoodreadsRating 

When nurse Sara Peters treats celebrity billionaire Trenton Merrick for a mysterious injury to his forehead, she is blindsided by what follows: a passionate exchange in the examination room, followed by an invitation to Trenton's mansion the next night.

Trenton spins a web of deceit and seduction around Sara that both repels and attracts her. One part humanitarian, the other international financial mogul, his professional and public life are a curious contradiction. As Sara journeys deeper into her feelings for Trenton and begins unraveling the mystery behind his injury, she finds herself embroiled in a game of trust and betrayal, where the odds are stacked in Trenton's favor, and the outcome for the loser is too terrifying to conceive.
Liezel's Thoughts:
Nurse Sara Peters is baffled how a well-known, extremely attractive billionaire Trenton Merrick ends up in their ER with a  forehead injury. What bothers her even more is his persistence that she be the one that attends to him. As she is examining his injury, sparks fly and she finds herself doing the unthinkable.  She just can't resist this seductive man and agrees to go out with him the next night.  Her inquisitive nature just won't let her say "no".
As she gets to know him better her life starts  spiraling out of control.  Just when she thought she could pin all the blame on Trenton for her situation, she finds that everything is not as it seems…it is so much worse than it could possibly be.
_____________________
At first, I thought this story read so similar to Fifty Shades because of its mercurial, egotistic and overprotective billionaire – come to find out that the billionaire part is the only thing it has in common.  I just about put it down for that reason then it suddenly morphed into something more.
I loved Sara's character in this book. For a twenty-two-year-old, I thought she was very mature for her age.  She was intelligent and smart, sassy and cool,  outspoken and very strong-willed. You would think that with the enigma of a man such as Trenton would deter her from making her own decisions but nope she didn't allow him to influence her. No matter how seductive he was she knew when to put her foot down.
It was difficult to understand Trenton in the beginning. He was quite the mystery. Once you unravel the secrets in this story you can not help but adore this man. I loved him for his selflessness,  his compassion and how he used his resources to fight for what he thought was right. Yes, he was overbearing when it came to Sara's safety but it was totally justifiable given her situation.
The supporting characters made such a good impression as well. Loved how her friends were protective of Sara's well-being and how they never hesitated to offer help in those tough times even when their life too could be at risk. I found that the connections they made, later on, was amusing and entertaining and I can't wait to see what is in store for them.
  I appreciated how it didn't focus on the couples' physical aspects of a relationship rather it leaned towards building more of a long and lasting one. I loved the thrill and the suspense.  There were so many twists and turns in this story that just made my mouth drop open and  I was finding myself repeatedly asking  "What the hell just happened?" A+ for unpredictability. Enjoyed it. Excited to read more.
The Verdict:
Excerpt:
Trenton follows me, leaving Christopher, Sean, and Denim alone inside my apartment.
I stand against the wall with my arms crossed over my chest.
After closing the door, Trenton approaches and presses his palms to the wall on either side of my head. The sound of my pounding heart fills my ears. I drop my arms to my sides and push my head back as far as I can, breathing deeply. His stare looks dark, intense . . . needy.
Goose bumps explode on my skin as he pins me against the wall with his body and brushes his lips to my ear. "First of all, don't you ever yell at me in front of my men again, do you understand?"
I open my mouth to protest but he hushes me.
"Secondly . . ." He skims his nose across my cheek. "Regarding my behavior at the diner, I was distracted by something going on at work. You deserved better treatment and I apologize."
He pulls back, his hands still planted against the wall. Heat surges through me as I focus on his mouth.
"I need to kiss you, Sara." His husky declaration snaps me to attention. "And you're going to let me, courtship be damned."
Trenton licks his lips and dips his head, pressing a kiss to my collarbone. I gasp and close my eyes. A wave of warm breath dances across my neck as he moves higher . . . higher . . . every soft kiss tangling me tighter in his web of power, passion, and possession.
Hosted by:
Related Posts