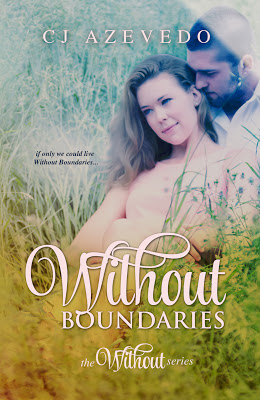 Without Boundaries by C.J. Azevedo
Series: Without #1
Published by Self-Published on August 9, 2013
Genres: Contemporary Romance
Format: ebook
Source: ARC
Purchase @ AMAZON
Add to GoodreadsRating 

Bailey Hayes moved across the country ten years ago after a tragic accident left her motherless. Distraught, confused and just sad, Bailey opted to leave the only life she has ever known to attend college at NYU. Determined to not experience the loss of a loved one again, Bailey keeps her one friend that she made as a freshmen in college. And that's it. She dated during her college years but she never let anything really stick. Not trusting herself enough to give her heart and not get hurt she was satisfied with the life she led. That is until she met the handsome, confident and successful Hollister Harrison.

Bailey was swept off her feet instantly with his charm and charisma. Six short months of dating, she finds herself moving in with him. The minute she had her bags unpacked, the fun loving romantic she fell hard for was starting to dwindle away as he became unnecessarily possessive and borderline abusive. Bailey insists on making her relationship work in fear of repeating her past and making a haste decision by leaving too soon. On a weekend when Hollister is out of town, she meets a guy. A beautiful charming guy whom she feels an obvious attraction for, but also a unique connection with. The beautiful charming guy is none other than her running partner's brother. Bailey finds herself in an oddly nice predicament.

The beautiful charming guy is none other than her running partner's brother. Talon McAllister has chosen to dedicate himself to his family's business his entire adult life. He adores his parents and his sister and hockey. Not leaving much time for anything else he has been single for years. Meeting Bailey Hayes changed his outlook. He wants her. He will do whatever he has to do to get her on the same page.

Finding out she lives with her boyfriend deters him from his mission of getting her to be his. But when she calls and asks to tag along on his vacation with his sister, he can't help but get excited. When he picks her up and sees her bruised and battered face he figures "game over" he is going to show her how she deserves to be treated. By the end of their first day together alone, Bailey propositions Talon with a brief relationship without boundaries and no lines to cross. He's in… all in.

Will this brief encounter without boundaries relinquish her twisted sense of loyalty to Hollister or will she walk away from her greatest love for fear of repeating her past?
Liezel's Thoughts:
I first read this story back in May and my GR comments back then was …
"Loved this story. For a debut author it was pretty remarkable! It was missing one tiny component but that Epilogue made up for it 100x over. I think everyone will agree with me.  Hoping this one gets a beautiful cover soon. Can't wait to read an edited version of this one. You guys definitely need to read it." 
Recently reread this story for the blog tour and I still standby with what I said above…
 Yes, I was frustrated with Bailey for not realizing sooner that she deserved better but I also admired the fact that she was willing to give Hollister the benefit of the doubt that he could change. I loved when she finally decided when enough was enough that she didn't just jump back into a another relationship but she spent months healing on her own. She took a huge risk and even if it pained her to be without her "one true love" she took everything in stride waiting for that perfect time when she thought she was ready.
What I loved most about this book was Talon. How romantic and caring he was with Bailey. Bailey repeatedly told him he deserved more and not to get involved but  instead of turning the other way he comforted her and offered her a way out. He was always patient and never looked for anything in exchange. He put his heart on the line for someone he knew was incapable of making a commitment.
I also liked that no matter how these two were physically attracted to each other it never was about sex to them. Their connection was so much deeper that it was never even brought up. I find that very rare  in current contemporary romance stories of today.  Even without that element in this story the author was able to completely hold my attention which I was very much impressed with. And the ending? Just wow – total swoon worthy…
Kudos to the author who was able to deliver such an impressive, wholesome and heartwarming book.
The Verdict:
Book Trailer
by: Mary Elizabeth's Crazy Book Obsession
Excerpt:
"You left without giving me an explanation as to why you up and left the way you did. What happened?" His voice is deep and seductive with a hint of gruffness to it.
My knees are weak. I can't find my voice, and I'm sure once I open my mouth he's going to be able to tell how much he is affecting me right now. Deep breath. Deep breath. Breathe Bay.
"I just haven't gone out in so long, it was getting late and I drank my drinks too quickly. I just felt like I needed to go home, so I did."
"Yeah, that's what Kali said, but the thing is, I just don't believe you." He takes a few more steps towards me and comes around the table so he's standing inches away from me.
My heart is pounding out of my chest. He is now acknowledging the lack of space between us by whispering in a husky tone.
"I know I was having a good time with you and I'm fairly certain you were having a good time with me. Am I wrong Bay?"
Pretty much everyone calls me Bay, they have my whole life. But Talon saying it is making my body react in a way it never has before to the nickname.  I am caving, I am opening my mouth to tell him he was not wrong at all. That I was having the best time ever with him out there on that dance floor. That I came home and dreamed of him for the last forty eight hours. Night and day thoughts of him consumed me.
Hosted by:

Related Posts