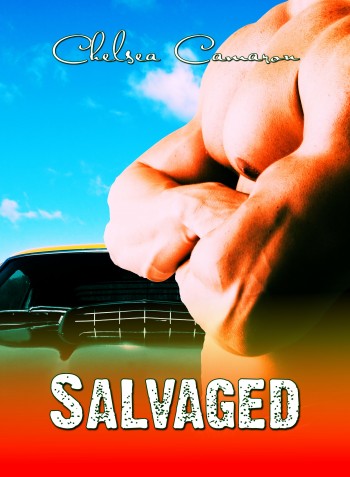 Salvaged by Chelsea Camaron
Series: Daddy's Girls #2
Published by Self-Published on April 3, 2013
Genres: Contemporary Romance
Format: ebook
Purchase @ AMAZON  or  BN
Add to Goodreads
Brayden and Maggie have been dating for four years. Maggie is ready and expecting an engagement ring. Brayden has a past full of weaknesses and mistakes he can't seem to shake. As he slowly loses everything, he also loses Maggie.
As his world unravels, can he find the strength to shake his inner demons? Does he have it in him to face the ghosts of his past? Can Maggie overcome his deceptions? Will they find a way to love and trust again? Can their love and relationship be salvaged?
Excerpt:
Brayden
While Maggie's parents are here, I need to talk to her dad.  The ring I recently purchased is never far from my mind.  I want to get this right, make all her dreams come true.
I finally get a moment alone with him at Ryder's house.  I pull out the ring as I begin our talk.
"Mr. Lawson, you know how much and how long I have been in love with your daughter.  I know I have made some mistakes.  I have learned from them and through it all my love for Maggie has grown even stronger.  She is my better half, truly and I want to make her my wife.  Do I have your blessing in asking your daughter to marry me?"
He doesn't say anything for the longest time.  This makes me very uncomfortable, so I begin to ramble.
"Mr. Lawson, I know I am not worthy to even have Maggie as a friend, much less anything more after what I have done.  I never deserved someone as precious and loving as Maggie in the first place.  The thing is, sir, you told me when the time came I would know whether to follow my heart or my head.  Well, I am following both.  My heart loves that woman with every breath inside of me.  My head knows she is good for me, keeps me focused on doing right.  So sir, I am not only asking, I am begging you to give this your blessing."
I know I sound like a complete pussy begging this man for permission to propose, but damn it I know Maggie will ask me if I got her dad's blessing.  If they don't support the engagement Maggie will walk away from me for good and I know it.
Harold smiles at me, "Son, yes I know you love my daughter.  We have all made mistakes you need to let go of that.  You are a good man, deep inside you there are issues you have to face daily.  You fight those battles just to be with my princess.  You have always wanted to take care of her.  I think you have worked really hard to straighten out your mess, Brayden.  And Son, yes you have my blessing to marry my one and only daughter."
(5) ecopies of Salvaged
( 1) ecopy full set of the Daddy's Girls series
Related Posts