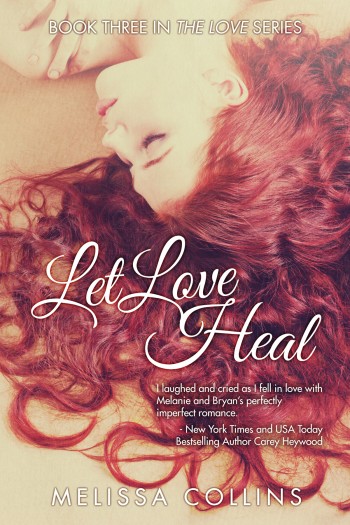 Let Love Heal by Melissa Collins
Series: Love #3
Published by Self-Published on October 22, 2013
Genres: Contemporary Romance, New Adult
Format: eARC
Purchase @ AMAZON  or  BN  or Purchase @ eStories
Add to GoodreadsRating 

Perfection.  We all strive for it, but what happens when the desire to be perfect consumes you?  What happens when the need to bury your mistakes blinds you?

Melanie Crane has always been the perfect daughter, friend, student – she's been perfect at everything, in fact.  But when she lets her insecurities, the ones that she keeps hidden from everyone, get the best of her, she falters in her pursuit of perfection.  Melanie crumples under the pressure and buries her pain.  Numbed by sadness and guilt, she is determined never to let anyone find out how broken she really is.

Bryan Mahoney may appear to have everything in order.  He's charming, witty and completely swoon-worthy. In short, Bryan has life all figured out, but appearances can be deceiving.  When the landscape of Bryan's family changes in an instant, he's left to pick up the pieces.

Not all bruises leave a mark. Now, weary and afraid, Melanie and Bryan must find a way to let love heal their broken and jaded hearts.
Liezel's Thoughts:
We first met Melanie in Let Love In/ Stay. She is Maddy's long time best friend and if you remember early on in this series she was having some issues in her life and I am glad that all of those were addressed in this book.
You see, Melanie has some self-esteem problems. She doesn't get how any man would want to be into her. She doesn't see herself as pretty  because her body isn't perfect but deep within she has this beautiful spirit that Bryan immediately recognizes.
No matter how often her tells her and shows her how amazing she is, she just doesn't see it. Seeing that Bryan's ex-girlfriend is model worthy and wants him back does not help the situation. After an adorable courtship she finally listens and gives Bryan a chance but  because of her insecurities their love is immediately put to the test.
"Let me wear you down and prove to you that even though we've both changes, we're better off for it."
 I thought this was a great follow-up to the first two books. I loved how it deals with real life issues especially in the POV of a young adult who is trying to find her place in the world. Moving away from home, being in a new environment , away from your family and friends is difficult enough and with the outstanding way this story was written you  couldn't help feel empathy for Melanie.
I  also enjoyed how this was written in the past and present. It could get confusing at times if you aren't paying attention but with this one I thought it was a terrific way to showcase other characters in the series. We get a glimpse into Maddy and Reid life, we find out the story behind Melanie being raised by a single mom and also the friendships that she has developed over the years.
I appreciated how it stresssed how important family is. Not only on Melanie's side but most importantly on Bryan's side. I loved that he was honorable about caring for his sister.
What I loved most about this book is the relationship between the main characters. The friendship, courtship and eventually the relationship felt authentic. They did have their problems early on but I thought that it was monumental for their relationship to further evolve into something more permanent.
Let Love Heal is about finding love , trust and also about second chances and as  much as I enjoyed the first two books of this series, I enjoyed this one too and I can not wait to read the next book that will be targeted towards a  more mature audience.
The Verdict:
Related Posts