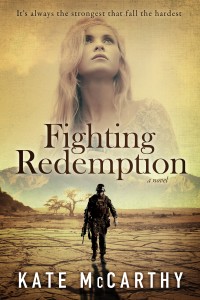 Fighting Redemption by Kate McCarthy
Published by Self-Published Genres: Contemporary Romance
Format: ebook
Source: Purchased
Purchase @ AMAZON  or  BN
Add to GoodreadsRating 

Ryan Kendall is broken. He understands pain. He knows the hand of violence and the ache of loss. He knows what it means to fail those who need you. Being broken doesn't stop him wanting the one thing he can't have; Finlay Tanner. Her smile is sweet and her future bright. She's the girl he grew up with, the girl he loves, the girl he protects from the world, and from himself.

At nineteen, Ryan leaves to join the Australian Army. After years of training he becomes an elite SAS soldier and deploys to the Afghanistan war. His patrol undertakes the most dangerous missions a soldier can face. But no matter how far he runs, or how hard he fights, his need for Finlay won't let go.

Returning home after six years, one look is all it takes to know he can't live without her. But sometimes love isn't enough to heal what hurts. Sometimes people like him can't be fixed, and sometimes people like Finlay deserve more than what's left.

This is a story about war and the cost of sacrifice. Where bonds are formed, and friendships found. Where those who are strong, fall hard. Where love is let go, heartache is born, and heroes are made. Where one man learns that the hardest fight of all, is the fight to save himself.
Liezel's Thoughts: 
One thing that I'm thankful for this year is becoming a blogger. Why? Because not only have I met some great  people who share the same passion for reading but these same people have one way or another  introduced me to so many new authors that I would have never have discovered otherwise. Just like this author Kate McCarthy. This was the first book I've read that she's authored and I would have to say that this is one of my favorite books this year.
It stood out amongst the rest for so many reasons. First is  because of the extra details written into the story. It just wasn't a love story for me but  it had so many more dimensions. It involved the war and I thought  that it felt legitimate and were very descriptive compared to other stories that involved such scenes.
I also loved it for its unpredictability. Starting with the prologue I could tell that this would be a tear-jerker. It starts off  as if our hero is already gone but as the story evolved and I was fully emotionally attached to the characters the unexpected happens. Once I got to that "ugly cry" point I couldn't figure out what would happen next. Time in again I found this one heartbreaking and was stressed where it all would end. For all the turmoil and the emotions that the author was able to evoke alone would count for my perfect rating.
"I won't ever stop. I'll love you longer than the stars that live in the sky."
Then there are the likable characters. Every single person in the book plays a vital role in the story. The entire Tanner family was who I found the most impressive. Ryan had been through some tough times growing up and he was practically adopted by this  family without reason or compensation. The loyalty that they shared was out of this world. Even when tragedy strikes they never put the blame on anyone as Ryan expected. They supported each other and stood together to get through those hard times. 
The pairing between Fin and Ryan was outstanding as well. Their chemistry and the passion that they shared was spectacular. I loved how Ryan had waited until he was emotionally prepared to finally fight for what was his which also gave Fin the time to come to the realization where her heart and her  priorities always were.  It doesn't just focus on this fierce love between Fin and Ryan but it also described the strong relations between family and friends and how well their lives intertwined.
Loved the entire story even with its' painful moments. The writing and the flow and even the suspense was altogether perfect. If you are looking for an emotionally charged romance that talks of love and sacrifice, acceptance and also forgiveness than this is definitely the one book that I would highly recommend.
The Verdict:
Excerpt:
Two weeks later, he packed his belongings and stole his way into Fin's room. She wasn't there, so he stretched out on her bed, hands tucked behind his head, eyes trained on the ceiling, and waited.
It was midnight when she came through the door, giggling as she read a message on her phone. Finished, she tossed it on her bedside table and froze when she caught him lying there in the dark.
He heard her breath catch. "Ryan?"
The lamp by her bed switched on, coating the room in a warm, cozy glow. Fin was illuminated, her skin golden in the soft light, her cheeks flushed with happiness.
"What are you …" She trailed off after meeting his eyes. He knew what she saw. He couldn't hold any of it back—regret, heartache, and loss for something that had never been his.
"You're leaving," she choked out.
Ryan couldn't speak. He watched her stride to the open window, its sheer white curtains billowing. Staring out into the night, she wiped away tears that spilled over and ran down her cheeks.
He blinked, his own eyes burning. "I'm sorry," he said eventually.
Fin turned and walked across the room. Sinking to the edge of the bed, she stared down at her hands. "When?"
Ryan unlocked his hands from behind his head and reached for her, pulling her down beside him. She stretched out, tucking her head under his chin. Closing his eyes, he breathed her in, allowing his arms to wrap around her. "In the morning."
Fin's hand fisted in his shirt as she let out a sob.
"I have to do this," he whispered hoarsely. He trailed his fingers through her hair and touched his lips to her forehead.
She started to wipe away the tears on her face, and Ryan took hold of her hand, stilling her. "You understand, don't you, Fin, why I have to do this?"
Ryan needed to know that she understood he wasn't leaving her, he was leaving his past, and trying to build a new future with the Army.
"I do." She choked again and buried her face in his neck, sobs breaking free.
"Don't," he whispered thickly. "Please don't cry. You have such a big future ahead of you. You're going to do big things with your life. Don't let anyone stop you from being who you need to be, okay?"
Fin nodded into his neck.
Ryan pushed back so he could look her in the eye. He wouldn't be there to watch over her anymore, so he needed to know she would look out for herself. "Promise me, Fin."
"I promise."
Satisfied, he reached out and switched off the lamp. Thrust into sudden darkness, Ryan laced his fingers in hers and held her close. When her tears dried up, she drifted off into a deep slumber. In the early hours of the morning, he pressed a soft kiss to her cheek, and disentangling himself, he left the room. Having already said his goodbyes to Mike and Julie earlier in the evening, Ryan clicked the door shut softly behind him and left the house, careful not to look back.
That was the last he saw of Finlay Tanner.
Playlist:
If you've read this book, try this Quiz:
Related Posts