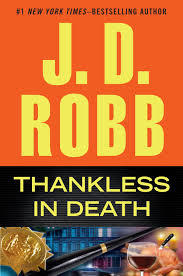 Thankless In Death by J.D. Robb
Series: In Death #37
Published by Penguin on September 17th 2013
Genres: Mystery
Format: Hardcover
Source: Library
Purchase @ AMAZON  or  BN
Add to GoodreadsRating 

Lieutenant Eve Dallas has plenty to be grateful for this season. Hosting Roarke's big Irish family for the holiday may be challenging, but it's a joyful improvement on her own dark childhood.

Other couples aren't as lucky as Eve and Roarke. The Reinholds, for example, are lying in their home stabbed and bludgeoned almost beyond recognition. Those who knew them are stunned—and heartbroken by the evidence that they were murdered by their own son. Twenty-six-year-old Jerry hadn't made a great impression on the bosses who fired him or the girlfriend who dumped him—but they didn't think he was capable of this.

Turns out Jerry is not only capable of brutality but taking a liking to it. With the money he's stolen from his parents and a long list of grievances, he intends to finally make his mark on the world. Eve and her team already know the who, how, and why of this murder. What they need to pinpoint is where Jerry's going to strike next.
Liezel's Thoughts:
The story is about this irresponsible young man Jerry. His entire life he was arrogant, spoiled and seemed to have no ambition. For about a month or so he was living with his parents after his girl kicked him to the curb (which he deserved). They finally decided to give him an ultimatum to either find a job or be put out on his ass. Instead of agreeing and showing his appreciation – he snaps, goes on a killing spree, seeking out those he thought have done him wrong in the past and liquidating their assets as he went along.
For such a failure, Jerry is quite smart and sneaky. He was able to evade them for some time. Eve and Peabody are always right on his tail but constantly miss him by mere minutes. With the help of the e-team they finally pin him down.
This one read different from the others. I think it was because early on we know who the perpetrator is. It didn't follow the normal murder-mystery like the previous books. I appreciate it because it gave the story a diff direction however it also wasn't as suspenseful compared to the others.
What I love about this one though was FINALLY Eve was offered a promotion. You know that she deserved this more than anyone. I would have to say that even if I wanted that badly for her, she made the right decision in the end.
The story happens around Thanksgiving and the other aspect of the story that I enjoyed was how it included Roarke's family. Just their mere presence in something so monumental in both of the couple's lives was heartwarming.
As you know, Eve is so friggin' socially awkward, right? (which I also love about her) Sometimes she doesn't know how to react or it could be the fact that she is afraid to show her emotions given her persona – badass LT. In this story she tries to keep those emotions in control when a young girl from her past case gives her a priceless gift. She mentioned some things that just tore me up inside.
For me I thought this book wasn't as great as the rest but I still enjoyed it nonetheless. It still had the suspense, romance, drama and intrique which got me into these books in the first place. Thirty seven books into the series and I still can not get enough of Eve and Roarke.
The Verdict:
Related Posts