One True Loves by Taylor Jenkins Reid
Published by Atria Books on June 7th 2016
Genres: ChickLit, Contemporary Romance
Format: eARC
Source: Netgalley
Purchase @ AMAZON  or  BN
Add to GoodreadsRating 

From the author of Maybe in Another Life—named a People Magazine pick and a "Best Book of the Summer" by Glamour and USA TODAY—comes a breathtaking new love story about a woman unexpectedly forced to choose between the husband she has long thought dead and the fiancé who has finally brought her back to life.

In her twenties, Emma Blair marries her high school sweetheart, Jesse. They build a life for themselves, far away from the expectations of their parents and the people of their hometown in Massachusetts. They travel the world together, living life to the fullest and seizing every opportunity for adventure.

On their first wedding anniversary, Jesse is on a helicopter over the Pacific when it goes missing. Just like that, Jesse is gone forever.

Emma quits her job and moves home in an effort to put her life back together. Years later, now in her thirties, Emma runs into an old friend, Sam, and finds herself falling in love again. When Emma and Sam get engaged, it feels like Emma's second chance at happiness.

That is, until Jesse is found. He's alive, and he's been trying all these years to come home to her. With a husband and a fiancé, Emma has to now figure out who she is and what she wants, while trying to protect the ones she loves.

Who is her one true love? What does it mean to love truly?

Emma knows she has to listen to her heart. She's just not sure what it's saying.
Micah's Thoughts:
"There is nothing more romantic than this. Holding the very person that you thought you lost, and knowing you'll never lose them again."
Wow. Wow. Wow. Did I ever love this book. 1. This author is an instant one click for me. 2. The blurb? What the what? YES! Can you even imagine in the feels? Even in my cold, dead heart, I can. And yes, this book doesn't disappoint.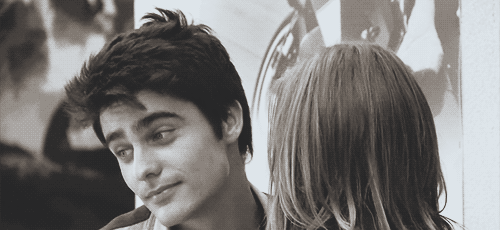 Emma is a run of the mill angsty teenager who is feeling like her family doesn't understand her. Her family runs a bookstore (um, my DREAM!), but she doesn't like books because her family forces them on her. She likes music and…pretty much anything that isn't books. Her older sister is their golden child. Emma wants to travel and see the world and get as far away from their home town as possible. Jesse is the town's swimming champion, but he hates swimming. They hit it off as teenagers, based on their common interest of hating what their parents push them towards. They go to California for college and get married 9 years down the road. They are so deeply in love. They travel the world by scraping together all of their money and taking jobs that allow them to do so.
However, this isn't where the book starts. We start where Emma is having dinner with her parents, sister, and finance years later. What happens is that on Emma and Jesse's one year wedding anniversary, he goes missing at sea and is believed to be dead. At that dinner, she receives a call, 3 years after he goes missing and she is now engaged to someone else, that he has been rescued. Wow!
"'We loved each other and we lost each other. And, now, even though we still love each other, the pieces don't fit like they used to.' I could make myself fit for him. He could make himself fit for me."
This book is told in parts. We go to the past, to the love story of Jesse and Emma. We fall in love with them. I loved Jesse and Emma and their carefree life. We then go to the heartbreaking part where Emma finds out about Jesse's crash. We see her struggle and move on and meet Sam. And then we get the part of the present time. In all of this story, I loved and felt for all these characters: Jesse, Sam, and Emma. Emma was put in such a hard spot: she was in love with two men. One she had moved on from, but still in love with and one she was currently in love with. Which would win out in the end?
Sam's character and his interactions with Emma were some of my favorite. He brought her out of her deep depression in a time she really needed it. And he was very funny! We got to know him when they were in high school and we got to love him when they were grown up. I love the arch of the character.
I give this book a full 5 stars. I love Taylor Jenkins Reid and I love her books. She has a unique ability to pull out emotions in you and pull you out of yourself. This isn't a book that you read for it's sizzle, but for the feelings it will bring out in you! Highly recommended!
The Verdict:
Related Posts